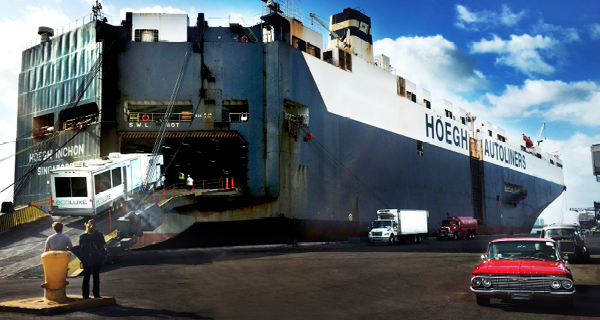 Logistics companies handling special projects need persistence and ingenuity—and have to expect the unexpected.
Whether they are supporting ventures in embargoed countries or first-ever projects in remote locations, logistics providers must be prepared to think quickly and clearly when unanticipated challenges arise. Here are several examples of special project teams in action.
Turbo-Charged Movie Logistics
Of the 136 vroom-vroom minutes that make up The Fate of the Furious, only about 15 take place in Havana, Cuba.
Jam packed with rubber-meets-the-road scenes for actor Vin Diesel, those fleeting 15 minutes took roughly three weeks of long days to film—and months of around-the-clock logistics planning. And, like so many special logistics projects, the planning and execution were not for the faint of heart.
In many ways, Cuba was a natural choice for the The Fast and the Furious movie franchise, offering an exotic setting known for its vintage car culture. But the island nation hadn't hosted a major Hollywood production crew in more than 50 years—and it's safe to say that it had never hosted the kind of pyrotechnic extravaganza associated with the turbo-charged films.
The task of getting the whole operation from Miami to Havana fell to Double Ace Cargo, a freight forwarding specialist based out of Florida. The firm is one of the few logistics providers already versed in the ups and downs of working with Cuba, making it a logical partner for the movie studio's own logistics team.
"We are very active in trade with Cuba," says Ernesto Vila, Double Ace president. "It is not our biggest market, but it is special to us." Cuban Americans founded Double Ace, he adds.
The Furious project represented Double Ace's first foray into movie logistics. And while the logistics behind any film are complex, they're especially challenging when the cast and crew go on location outside the country, and exponentially more challenging when that excursion involves negotiating one of the longest-lasting trade embargoes in U.S. history.
"When we work a movie production, our typical scenario is to move a lot of the production equipment, but not the props," Vila says. In other words, film crews move everything they can't acquire or lease at the site, so long as it withstands cost-benefit analysis. For The Fate of the Furious, Double Ace had to move almost everything to Havana—from the trailers to accommodate cast and crew, to the mobile units for production, to the countless vehicles equipped with special brakes and engines for the daredevil driving.
Getting all that equipment to and from Cuba on a tight schedule required Vila and his team to perform lots of behind-the-scenes work. They chartered the Hoegh Inchon, a RoRo (roll on/roll off) ship, to make loading and unloading all the wheeled cargo easier.
Moving Without Delay
That part was fairly simple. What wasn't easy, given regulations, was making sure that the ship could depart Havana and return all the equipment to U.S. soil in time for scheduled shooting at additional locations. After all, U.S. regulations then in place required that any cargo ship docking in Cuba could not dock at a U.S. harbor within six months of departing the Caribbean country.
A six-month delay would have cost the Furious production company untold millions, so, Vila says, Double Ace pursued, and acquired, a special license from the Bureau of Industry and Security at the Department of Commerce. The permit allowed the Hoegh Inchon to return directly to Miami.
Double Ace also chartered a plane to get the crew, camera equipment, and additional gear to Havana. Everything went smoothly with that operation, Vila recalls, until the plane landed at its destination.
"The most complex part of the project was the reception in Cuba," he says. At that point, officials on the ground introduced a change that upended Vila's carefully constructed plans. Rather than route the plane to a cargo terminal, where all the equipment could clear customs smoothly, officials dispatched it to the passenger terminal.
Once there, all the gear had to clear customs alongside passengers from all over the world. The same equipment, processes, and personnel for screening suitcases were deployed for cumbersome cameras, boom poles, audio cables, and microphones.
The process added hours to an already tight schedule and tension to an already nerve-wracking situation. Fortunately, everything turned out well, Vila says, but not before the Double Ace and Furious crews entertained all sorts of worst-case scenarios. Had the customs team refused to admit any of the gear, it could have hobbled production.
"Several resources were on hold for many, many hours," Vila explains. "I feared that could escalate into a real problem."
Another complication arose with Cuban requirements that customs manifests account for every—emphasis on every—item shipped into the country. A single item left off the list could have presented problems at customs. For the return trip, every item on the entry manifests—again, every item—had to appear on the return lists.
"Even vehicles that were basically destroyed had to go back," Vila says. "Everything that went in had to go out."
Once the crew was established in Havana, Vila thought Double Ace was done for a couple of weeks. But then the realities of the Cuban economy set in, and Vila was called on to charter an additional jet to rush food items and consumer goods—tubes and tubes of sunscreen, bottles and bottles of water—to the set.
Despite the change in plans at Cuban customs, and despite the rush delivery of necessities, filming went smoothly. After three weeks, as the schedule dictated, the crews wrapped up production, and then, Vila says, "we did everything in reverse."
Bringing Solar Energy to Dubai
Fossil fuels? Or rays of sun? For the ruler of Dubai, the choice is clear. He's investing in the natural resource that's clean, plentiful, affordable, accessible and renewable. He has put his name and certainly his wallet behind the massive Mohammed bin Rashid Al Maktoum Solar Park, billed as the world's largest single-site photovoltaic operation.
For Chaminda Gunasekera, the new solar park represents a shining beacon of logistics ingenuity. Gunasekera serves Chicago-based third-party logistics provider SEKO Logistics as director of network development for the Middle East, Africa and the Indian subcontinent. It was his job to ensure that two 92-ton transformers, essential to the solar park's viability, made it from the port of Dubai to the project site on time and in good condition.
In many other locations, that might have been a relatively matter-of-fact operation. But in the Emirate of Dubai, the physical terrain and business landscape presented singular challenges.
The first challenge concerned cost containment around import duties. "We worked on getting the whole project on a duty-free program, because in Dubai there is no duty-free allowance for a solar project," Gunasekera recalls. Duty-free allowances typically are awarded only to imports for manufacturing, not construction, projects.
That done—and it was easier said than done—Gunasekera also had to arrange all the port and road clearances and conduct the risk analysis associated with the project. "This whole project is actually built on the Dubai ruler's private property," he says. As a result, access to the site was strictly controlled. In fact, contractors, crews, and the trucks carrying all the solar panels, the two transformers, and the equipment needed for a successful installation were allowed on the road only between the hours of 10 p.m. and 6 a.m.
"Everything happened only after 10 p.m. because the Dubai ruler used this road most of the time," Gunasekera says. "Other vehicles were not allowed on the road because it's private property. He agreed to open the road for us only at 10 at night, with a police convoy and police escort.
"We had to be very careful," he adds. "He has 16 falcons…and goats, and deer, and all his pets. We had to train the drivers how to avoid killing these pets."
When Drivers Are Cargo
What's more, extra vans and buses had to be dispatched to the site—all within that 10-to-6 timeframe—to ferry drivers off the property once they had left their loads at the solar park. They had to be ferried back to retrieve their trucks after all the cargo was unloaded.
The site itself—4.5 square kilometers of ever-shifting, wind-swept desert sand—presented enormous obstacles. "Basically the ground had to be compacted and prepared, because it is just desert," Gunasekera says. "Nothing was there except camels and insects."
Nothing at all. No concrete platforms to receive unloaded materials. No facilities for the crew. No snack shops or canteens.
The elements didn't help either. The wind factor was so strong that lifting and moving the transformers by crane was out of the question. One good gust and both crane and transformer could have toppled. To forestall this disaster, the logistics crew devised a hydraulic jack system to convey the heavy loads to their final destination.
By the time SEKO successfully delivered the transformers, Gunasekera had worked his way through countless "what could possibly go wrong" scenarios. None came to pass, but they did offer invaluable experience for solar energy logistics in the region.
"No one had done a project of this magnitude in Dubai previously, so no one had any experience," Gunasekera explains.
Now, SEKO and Gunasekera have been there and done that. Next time, it's rinse and repeat.
Importing and managing the logistics of your precious freight is no easy task. Compliance to U.S. Customs & Border Patrol is essential to your cargo clearing customs. Use a freight forwarder to lower your chances of having shipment delays and to oversee all of your international freight logistics. Contact a customs broker to file your ISF and issue any pre-alerts to avoid penalties and delays, and arrange your ocean freight and imports customs clearance.